Chris Gadeke
BSc (Hons) MCSP MMACP AACP
Chris has been involved in Rehabilitation and Physiotherapy for almost 10 years. He qualified as a chartered physiotherapist graduating with honours in Physiotherapy from Hertfordshire University in 1999. He went on to obtain Post-Graduate Diploma's in Neuromusculoskeletal Physiotherapy achieving membership into the coveted Manipulative Association of Chartered Physiotherapists (MMACP) and is due to complete his Masters degree in the next few months.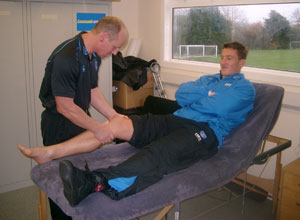 Chris has recently taken up a position as an NHS Clinical Specialist Practitioner in Shoulders at Queen Alexandra and St Mary's Hospital whereby he specialises in upper quadrant and shoulder conditions, working in conjunction with Orthopaedic Surgeons and Specialist Consultants. He can make referrals for diagnostic services such as X-ray, MRI or Ultrasound. Chris is utilises an evidence based approach and is involved  in research and teaching  throughout his NHS and sports injury work.
Chris has experience as a manager of a large specialist physiotherapy department whilst in the Royal Army Medical Corps and was instrumental in the development of Physiotherapist Services during the Gulf War campaign. He has extensive experience in the treatment of elite athletes and has spent the previous 12 months as physiotherapist to Portsmouth FC with the professional squad. During that time he covered numerous Premiership matches and FA Cup fixtures and developed his clinical and rehabilitation skills to the highest level. In the past he has also worked for the FA providing physiotherapy service to the England U16 and Portsmouth FC academy, as well as teaching on FA Diploma courses at Lilleshalle
Chris provides a high class service in all neuromusculoskeletal conditions, Whiplash Associated Disorders and Sports Injuries. He is an expert in Medicolegal (MLCP) reporting and a qualified acupuncturist (AACP).